True Potential Health Services
True Potential Health Services True Omega fish oil carries the TruTG seal, which means it is delivered in the form found in nature and is of superior TG potency.
The TruTG seal guarantees a minimum 90% triglyceride-bound (TG) omega-3 fish oil, a level that is 40% - 50% higher than the industry standard for most TG fish oil concentrate products. Source of Omega-3 fatty acids.
True Potential Health Services True Omega is molecularly distilled and filtered to ensure purity and to maximize the removal of metals, pesticides, PCBs, and other contaminants. The addition of mixed tocopherols (antioxidants) improves the stability of the product.
Supplement Facts: 

Recommended Dose: Adults: Take two softgels per day with meals, or as directed by your health care practitioner.
Amounts per serving (1 capsule):  
Omega-3 Fatty Acids: EPA 375 mg (Eicosapentaenoic acid) DHA 375 mg(Docosahexaenoic acid)
Triacylglycerol lipase 0.125 mg (275 FCC LU)
Other ingredients: Bovine gelatin, purified water, glycerine, annatto (colour), natural lemon flavour, DeltaGold® tocotrienols, lipase
Contains fish (Alaska pollock). Gluten-free, dairy-free, soy-free, non-GMO. 

Cautions: 
Consult your health-care practitioner before use if you are taking blood thinner medication or if you are planning to have surgery.
Share
View full details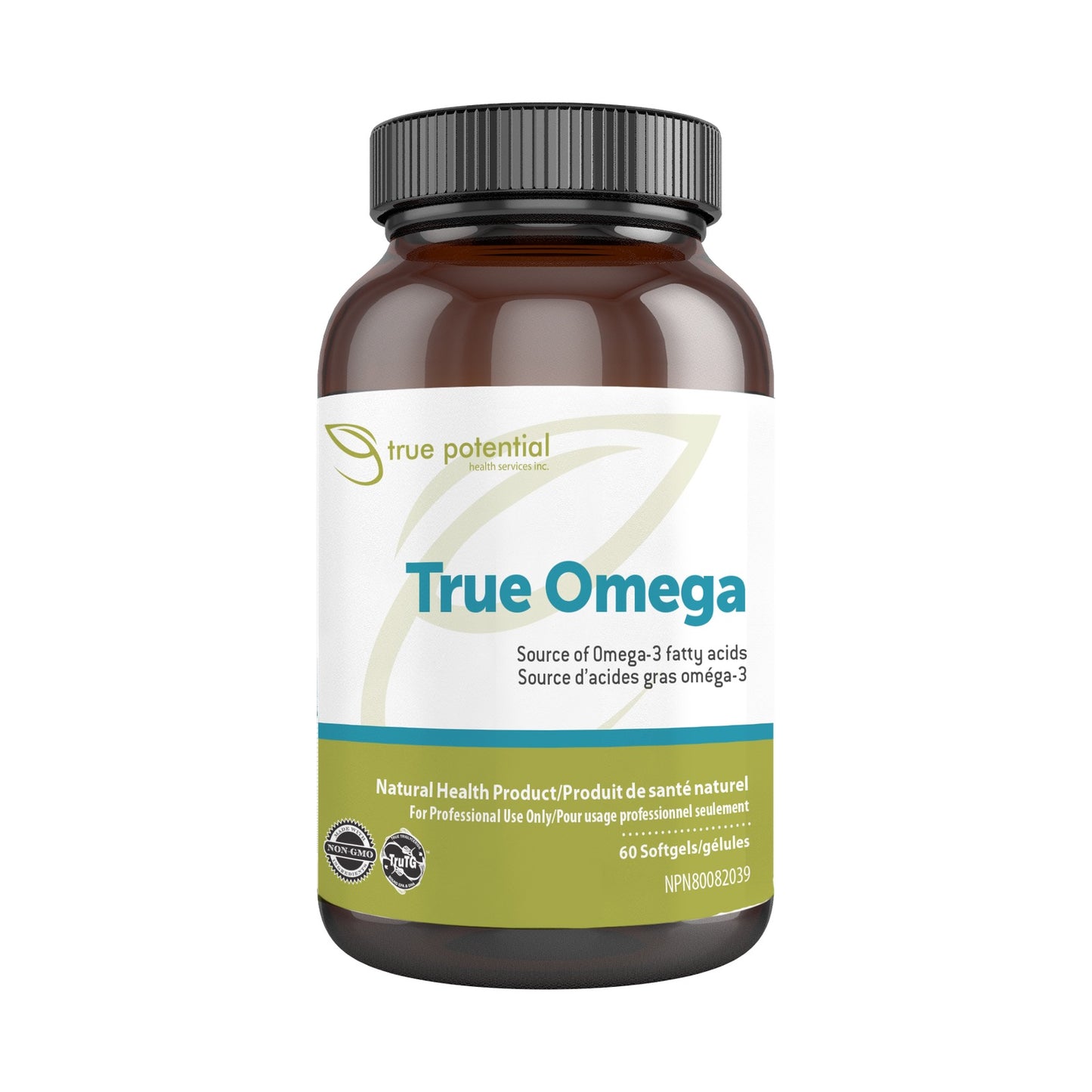 Frequently Asked Questions
Can I change my subscription later?

Yes! Just go here to:

view subscription details
skip an upcoming shipment
change delivery frequency
add, remove or swap a product to subscription
update shipping or payment information
cancel subscription
and more!
Do you have a retail location?

Yes! We ship out of a health clinic in Saskatoon, where we specialize in naturopathic medicine. You can pick-up your order during regular business hours.

Our address is:

#3, 1810 8th Street East
Saskatoon, SK
S7H 0T6
What is your shipping policy?
What is your return policy?