True Potential Health Services
True Potential Health Services True Collagen Powder contains a unique blend of three patented collagen peptides supported by clinical research showing their efficacy for supporting collagen production, bone strength, joint health and integrity, skin elasticity and more.
Collagen is a special type of protein that accounts for as much as 30% of the body's total protein. In particular, its a primary structural component of connective tissue. The amino acid composition of dietary collagens are very similar to those in human collagens, making dietary collagen peptides ideal for supporting normal body collagen turnover and renewal.
True Potential Health Services True Collagen can be incorporated into shakes, smoothies, and other foods and beverages, making it a convenient way to ensure adequate intake of collagen's unique amino acids.
Supplement Facts: 
Recommended Dose: Adults: Mix 1 Scoop (10g) with 8 ounces of water per day, or as directed by your health care practitioner. For best results, add powder prior to adding water. For joint pain, use for at least 5 months to see beneficial results. 

Amounts per serving (1 scoop):

Hydrolyzed collagen 10g (Bovine bones bovine skin/hide split)
Gluten-free, dairy-free, non-GMO, soy-free
Share
View full details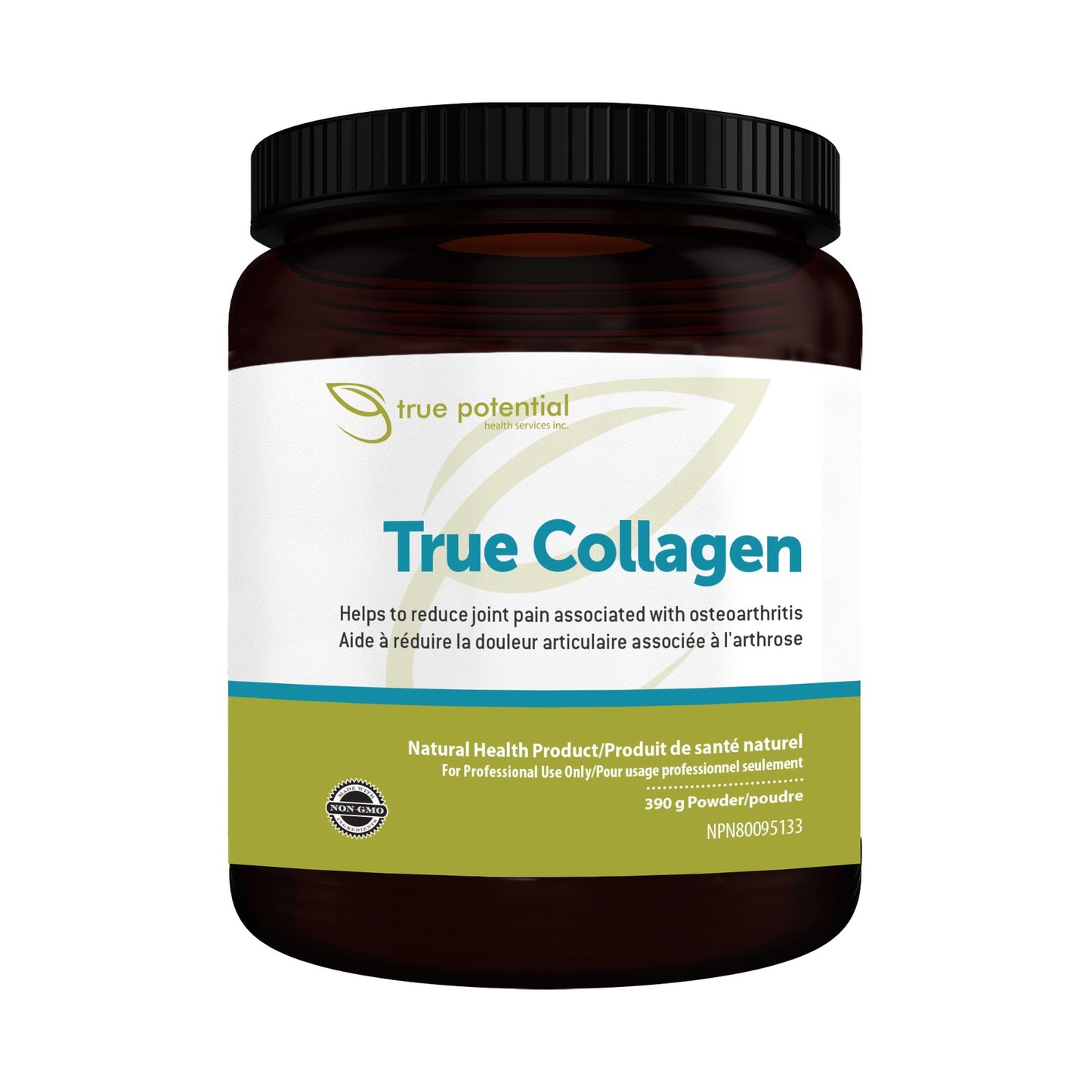 Frequently Asked Questions
Can I change my subscription later?

Yes! Just go here to:

view subscription details
skip an upcoming shipment
change delivery frequency
add, remove or swap a product to subscription
update shipping or payment information
cancel subscription
and more!
Do you have a retail location?

Yes! We ship out of a health clinic in Saskatoon, where we specialize in naturopathic medicine. You can pick-up your order during regular business hours.

Our address is:

#3, 1810 8th Street East
Saskatoon, SK
S7H 0T6
What is your shipping policy?
What is your return policy?