Genestra
Genestra HMF Powder is a combination of four human strains of proprietary probiotics that promotes intestinal health in adults and children.
Supplement Facts: 

Recommended Dose: Adults and Children (1 year and older): In a glass, add water or milk to one scoop (1/4 teaspoon) of HMF Powder and mix. Take two times daily with meals, at least two to three hours before or after taking antibiotics, or as recommended by your healthcare practitioner. Store under refrigeration (below 8 degrees C).
Amounts per serving (1 g- approx 1 scoop): 
Probiotic Consortium 11 Billion CFU
Lactobacillus acidophils (CUL-60 & CUL-21) 6.5 Billion CFU
Bifidobacterium animalis subsp.lactis (CUL-34) & Bifidobacterium bifidum (CUL-20) 4.5 Billion CFU
Fructooligosacharides (FOS) 880 mg
Other ingredients: Dipotassium phosphate, monopotassium phosphate, trehalose, sucrose.

Non-GMO, Gluten Free, Soy Free, Dairy Free and Vegan.
Cautions: 

If you have an immune compromised condition, do not use. If you are experiencing nausea, fever, vomiting, bloody diarrhoea or severe abdominal pain, consult your healthcare practitioner prior to use. If symptoms of digestive upset occur, worsen or persist beyond three days, discontinue use and consult your healthcare practitioner.
Share
View full details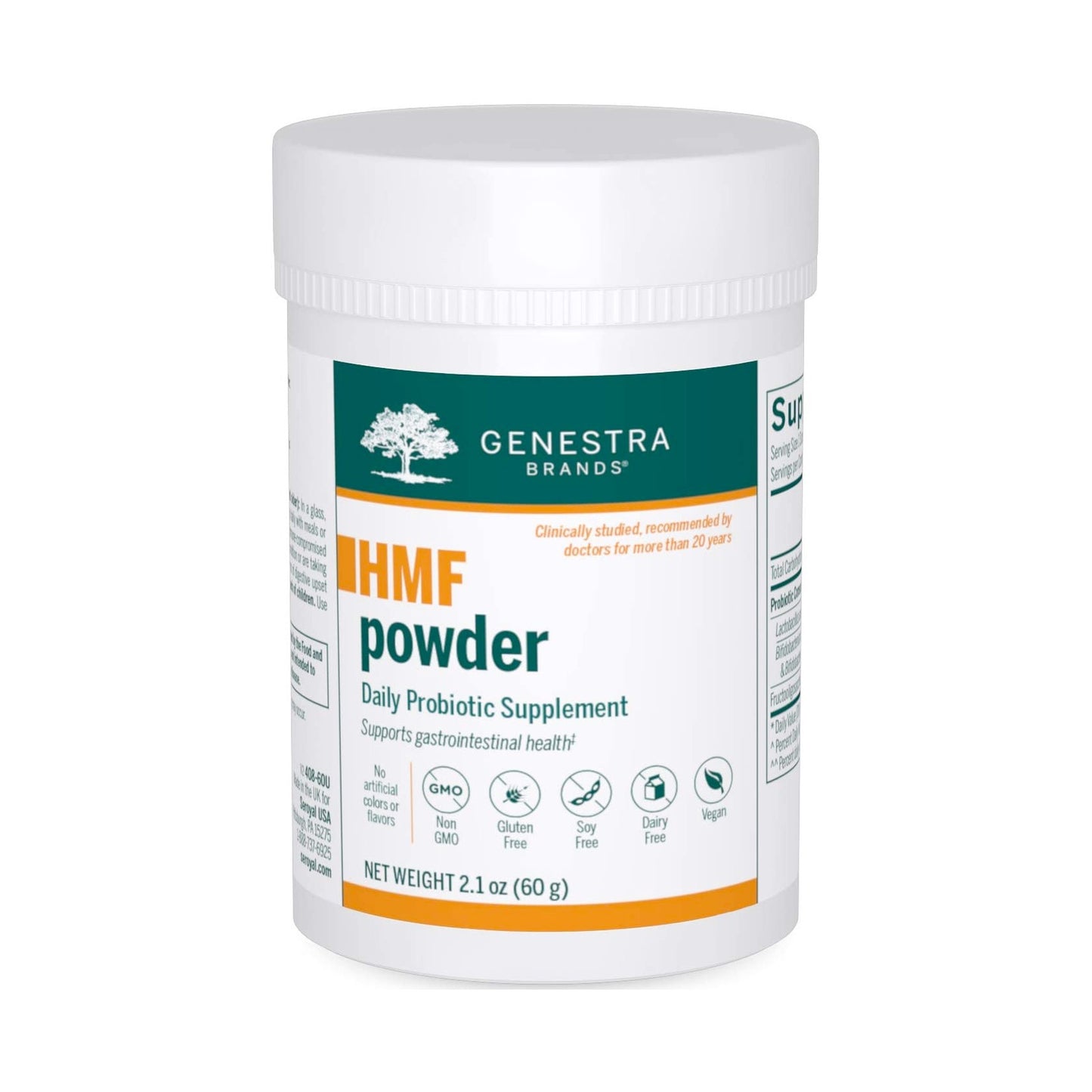 Frequently Asked Questions
Can I change my subscription later?

Yes! Just go here to:

view subscription details
skip an upcoming shipment
change delivery frequency
add, remove or swap a product to subscription
update shipping or payment information
cancel subscription
and more!
Do you have a retail location?

Yes! We ship out of a health clinic in Saskatoon, where we specialize in naturopathic medicine. You can pick-up your order during regular business hours.

Our address is:

#3, 1810 8th Street East
Saskatoon, SK
S7H 0T6
What is your shipping policy?
What is your return policy?