Designs for Health
Designs for Health PurePaleo Chocolate Protein Powder is a source of protein which helps build and repair body tissues. Assists in the building of lean muscle when combined with regular weight/resistance training and a healthy balanced diet.
PurePaleo Protein is a novel, great-tasting, dairy-free protein powder, yielding 21g of protein per serving. It contains HydroBEEF, a highly concentrate, pure beef protein, produced through an exclusive proprietary process that allows the protein to be hydrolyzed into more peptides, resulting in easier absorption and assimilation. This product contains beef from animals raised in Sweden without hormones or antibiotics, and is free of any GMO grains, grasses, and/or ensilage.
Designs for Health PurePaleo is an ideal protein for those who want a true Paleo protein source, want the power of beef to build muscle, cartilage and ligaments and are dairy sensitive.
Supplement Facts: 

Recommended Dose: Adults: Mix 1 scoop (27g) well in 1-2 cups of liquid immediately before consumption, or as directed by your healthcare practitioner.
Amounts per serving (1 scoop): 
Beef protein isolate ... 21g (Bos taurus-Muscle)
Other ingredients: Cocoa powder, natural chocolate flavour, natural vanilla flavour, medium chain triglycerides, stevia leaf, silicon dioxide
Does not contain gluten or dairy.
Cautions: 

Ensure to drink enough fluid before, during, and after exercise. Consult a healthcare practitioner prior to use if you are pregnant or breastfeeding.
Share
View full details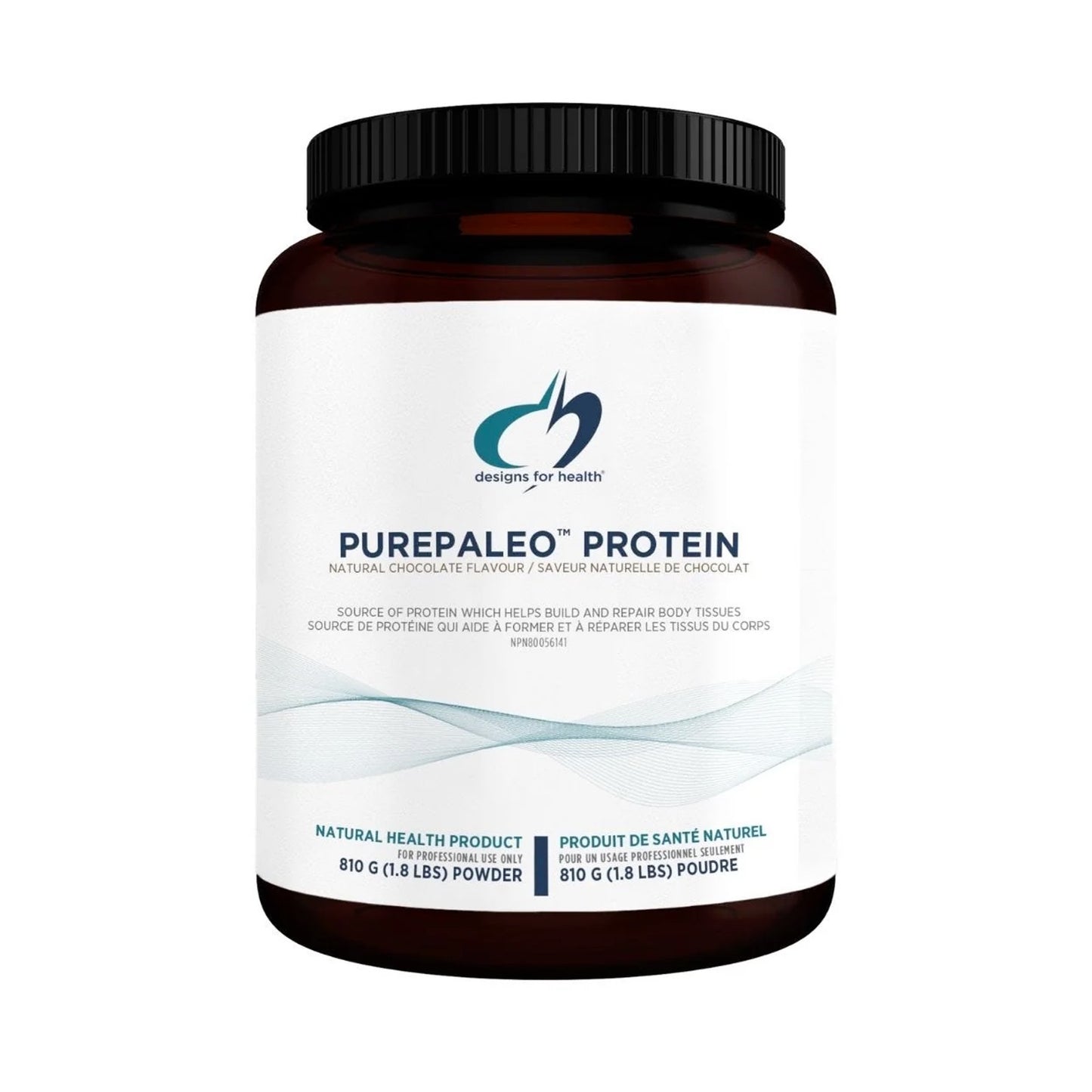 Frequently Asked Questions
Can I change my subscription later?

Yes! Just go here to:

view subscription details
skip an upcoming shipment
change delivery frequency
add, remove or swap a product to subscription
update shipping or payment information
cancel subscription
and more!
Do you have a retail location?

Yes! We ship out of a health clinic in Saskatoon, where we specialize in naturopathic medicine. You can pick-up your order during regular business hours.

Our address is:

#3, 1810 8th Street East
Saskatoon, SK
S7H 0T6
What is your shipping policy?
What is your return policy?