CanPrev
CanPrev Detox-Pro 90 Vegetable Capsules help promote a healthy liver function and is a factor in the maintenance of good health.
Supplement Facts: 

Recommended Dose: Take 2 capsules 3 times per day with meals including protein a few hours before or after taking other medications or as directed by a healthcare practitioner.
Amounts per serving (1 capsule): 
N-Acetylcysteine (NAC): 100mg
Vitamin A (acetate): 833IU
Vitamin C (ascorbic acid): 83.3mg
Vitamin E (d-alpha): 67IU
Vitamin B1 (thiamine HCl): 8.3mg
Vitamin B2 (riboflavin): 8.3mg
Vitamin B3 (niacin): 8.3mg
Vitamin B5 (calcium d-pantothenate): 25mg
Vitamin B6 (pyridoxine HCl): 8.3mg
Folate (folic acid): 133mcg
Vitamin B12 (methylcobalamin): 167mcg
Choline (choline bitartrate): 10mg
Copper (copper citrate): 500mcg
Magnesium (bisglycinate): 8.3mg
Manganese (manganese citrate): 416.7mcg
Molybdenum (sodium molybdate): 8.35mcg
Selenium (yeast): 33.4mcg
Zinc (citrate): 5mg
Glycine: 41.7mg
L-Glutamine: 50mg
L-Methionine: 41.7mg
Taurine: 41.7mg
DL-Alpha lipoic acid: 16.7mg
Artichoke extract (cynara scolymus) leaf, 4:1: 53.3mg
Curcumin (turmeric): 31.6mg
Dandelion extract root, 10:1: 16.7mg
Green tea extract leaf, 95% polyphenols: 20mg
Milk thistle seed, 80% silymarin: 33.3mg
Rosemary (rosmarinus officinalis) leaf, 4:1: 16.7mg
Slippery elm extract stem bark, 10:1: 16.7mg
Other ingredients: Vegetable-grade magnesium stearate, vegetable capsule.

Dairy Free. Gluten Free. Non-GMO.
Cautions: 
Contraindicated in pregnant and breastfeeding women and those with biliary tract or bowel obstructions, liver or gall bladder disorders, or allergies to plants of the daisy family. Caution advised with medical conditions including cancer, diabetes, cystinuria, gallstones, iron deficiency, excess stomach acid and stomach ulcers. Caution advised with a low protein diet. Caution advised when there is a history of non-melanoma skin cancer. Detox-Pro™ contains natural diuretics. User should consult a healthcare practitioner prior to use in cases of heart disease, high or low blood pressure, kidney disorder or edema (swelling of the hands, face or feet), or if taking products containing diuretics.
Caution advised when used concurrently with antiplatelet agents, blood thinners, nitroglycerin or antibiotics.
Stop use and seek immediate medical attention if dizziness, confusion, abnormal heartbeat, difficulty breathing or muscle pain or weakness occurs after taking this product. User should discontinue use if hypersensitivity or symptoms of liver trouble, such as abdominal pain, dark urine and jaundice, occur. Those sensitive to nicotinic acid may experience flushing of the skin that is generally mild and transient.
Share
View full details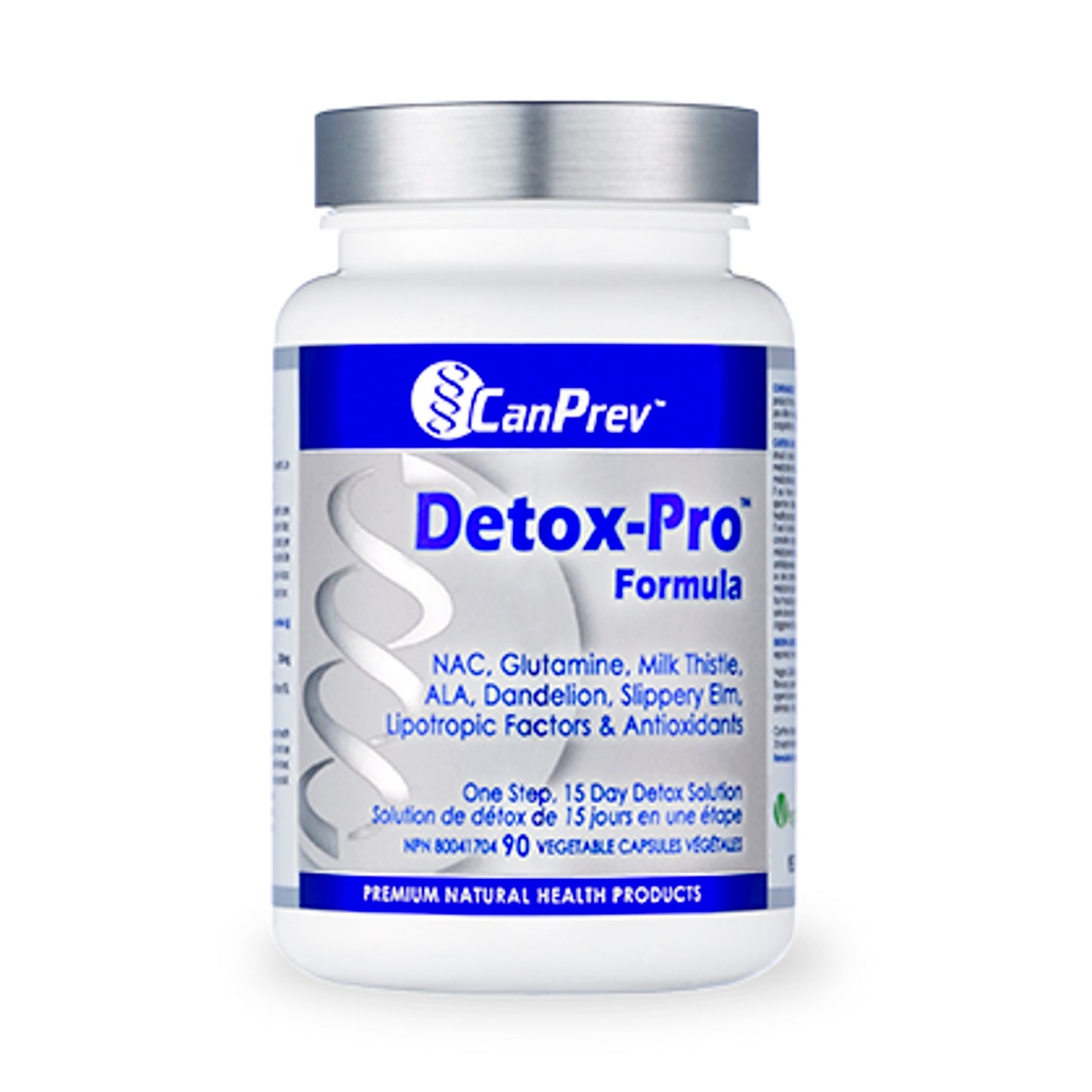 Frequently Asked Questions
Can I change my subscription later?

Yes! Just go here to:

view subscription details
skip an upcoming shipment
change delivery frequency
add, remove or swap a product to subscription
update shipping or payment information
cancel subscription
and more!
Do you have a retail location?

Yes! We ship out of a health clinic in Saskatoon, where we specialize in naturopathic medicine. You can pick-up your order during regular business hours.

Our address is:

#3, 1810 8th Street East
Saskatoon, SK
S7H 0T6
What is your shipping policy?
What is your return policy?