True Potential Health Services
True Potential Health Services Deep Immune (Astralagus Combo) is used primarily as an antiviral to tonify a weak immune system. Deep Immune® reinforces the basic functions of the body and helps maintain physiological and psychological equilibrium.
It has a strengthening effect on our body's "deep immune" system, nourishing its very bone marrow and enabling it to produce more immune reserves. Deep Immune® can be used to counteract the debilitating effects of surgery, chemotherapy, and radiation, as well as autoimmune and immune deficiency diseases.
Supplement Facts: 

Recommended Dose: Adults: Take 2.5-3 mL (75-90 drops) 2 times daily in a little water on an empty stomach.

Medicinal ingredients: Astragalus (Astragalus membranaceus), Codonopsis (Codonopsis pilosula), Reishi thallus (Ganoderma lucidum), Eleuthero (Eleutherococcus senticosus), Ligustrum (Ligustrum lucidum), Schisandra (Schisandra chinensis), White Atractylodes (bai zhu) (Atractylodes macrocephala), Licorice (Glycyrrhiza spp.)

Other ingredients: Grain alcohol, Distilled water, Vegetable glycerine

Cautions: 
Do not use if pregnant.
Share
View full details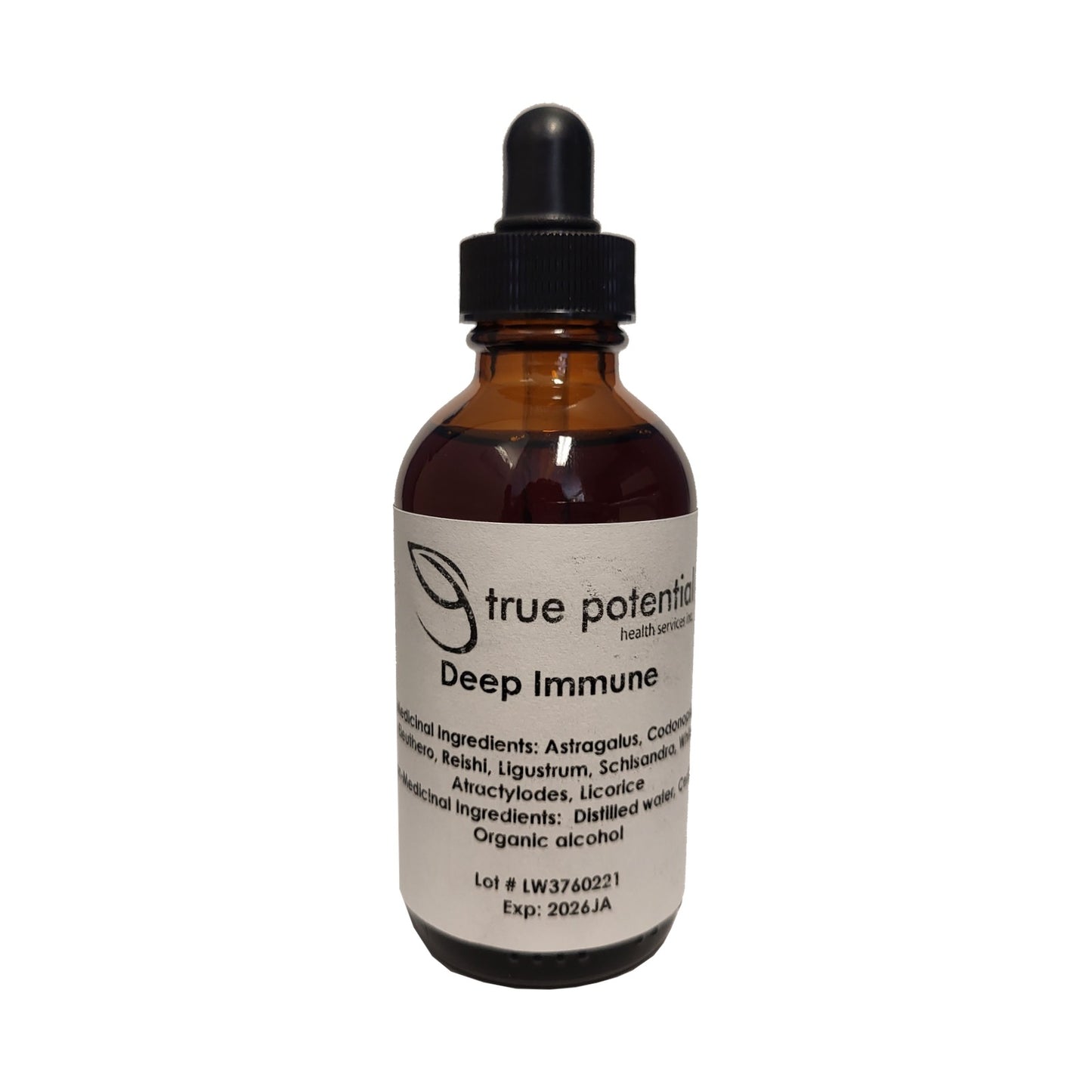 Frequently Asked Questions
Can I change my subscription later?

Yes! Just go here to:

view subscription details
skip an upcoming shipment
change delivery frequency
add, remove or swap a product to subscription
update shipping or payment information
cancel subscription
and more!
Do you have a retail location?

Yes! We ship out of a health clinic in Saskatoon, where we specialize in naturopathic medicine. You can pick-up your order during regular business hours.

Our address is:

#3, 1810 8th Street East
Saskatoon, SK
S7H 0T6
What is your shipping policy?
What is your return policy?